EUGENIE LEE FOR ACG
How Eugenie Lee is opening up doors for more women in climbing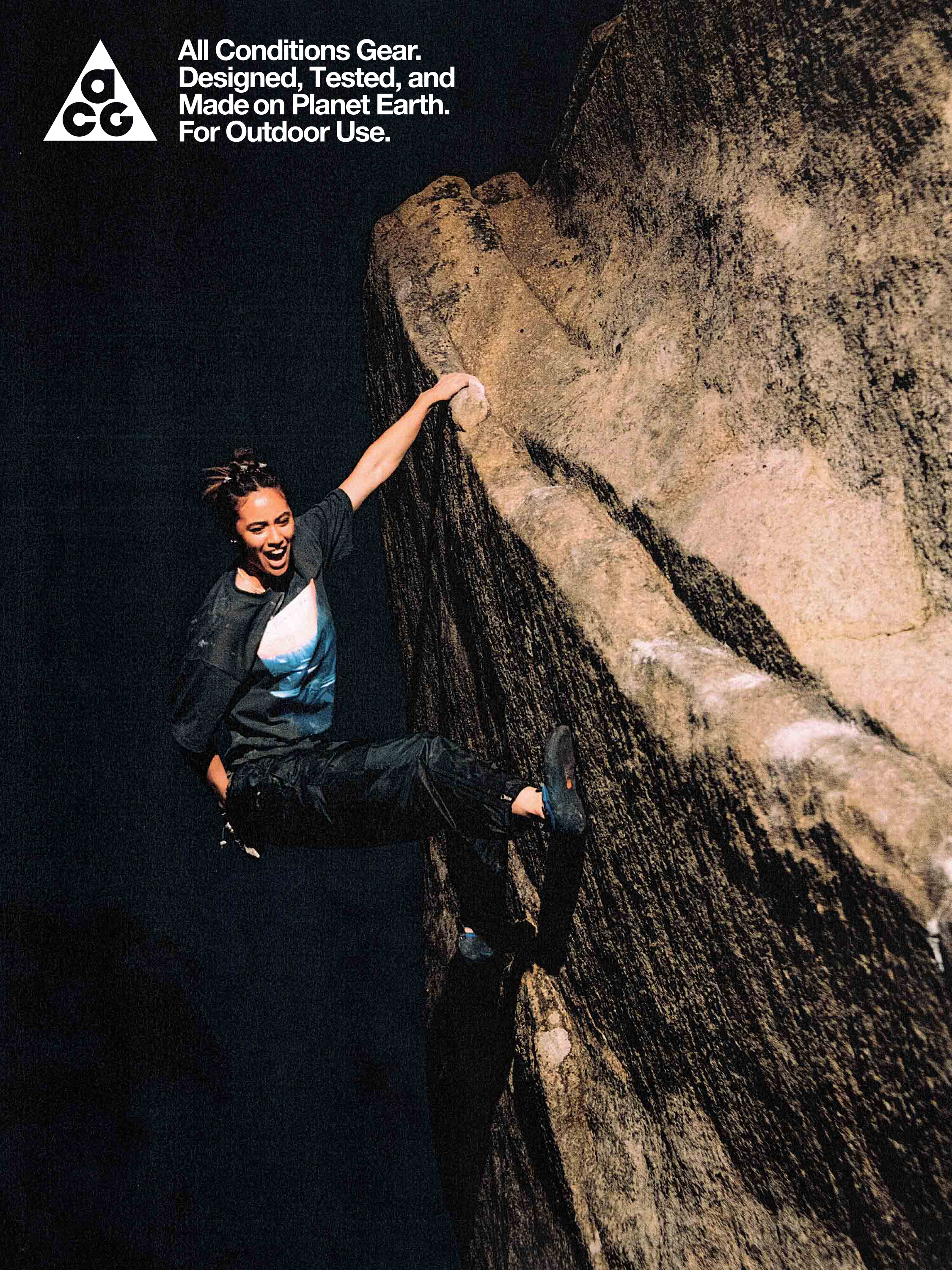 FREE WORKSHOP:
Go climbing with Eugenie Lee and her crew. We're hosting a free women's bouldering workshop with Eugenie.
Click
here to RSVP!
If you're trying to reach
Eugenie Lee
, good luck. She's often in the depths of the wilderness, engrossed in the endlessly diverse challenges presented by trying to scale rock faces.
Eugenie started rock climbing around about the time everyone else was learning to ride a bike. Finding both solace and community in the sport from the very beginning, she's gone from strength to strength ever since.
She's also aware that not everyone has the opportunity to try a sport like rock climbing, and that's something she wants to change with the help of her friends.
We tagged along with Eugenie as she drove up to the sprawling Peak District in the North of England to explore the National Park, searching for ancient boulders to climb. Along the way, we learnt a little bit about her route to the top so far – in more ways than one.
Here's some of our favourite moments photographed by
Dani K Monteiro.
Eugenie! I thought it'd be good to start at the beginning… How did you get into climbing?

I did a lot of sports when I was younger: circus training, football, tennis, and I was always climbing trees. My mum said, 'maybe we should try climbing as a family sport'. So we went as a family… Turns out mum was scared of heights! It became a thing between me and my dad and it was a really good bonding experience.

Mums always know. You said that you climbed with your dad – climbing in general is a sport that's quite male dominated. What's that been like for you as a woman and also a person of colour?

The sport is quite dominated by white, middle-class men, mostly. It was definitely a learning curve for me. It would be great to have more diversity in climbing - I want to create a community of women who are strong, who are confident, who are breaking boundaries. Climbing is a young sport: we can mould it to what we want it to be: something women can feel comfortable in.

And it's already changing, right?

Yes! There wasn't anyone to look up to when I was young, but it's nice that now I can go to a climbing centre, see a girl like me and ask 'oh, what are you climbing?'. It's so important for them to have someone who looks like them.

One of the main tenets of ACG is to 'go outdoors' – what are the benefits you've found from getting out into the wilderness?

I've grown up in London, and I'm a city girl at heart, but being able to climb outdoors takes you to some awesome places. Being in a valley so far away from the city is so good for you, and half the time there isn't any signal, so you're forced to stay away from the toxicity of your phone.

I guess climbing inevitably teaches you about the outside world. What other things have you learnt from being a climber?

You get used to failure. 90% of the time, you're falling off a climb, and it teaches you to not give up. If you can't do this move, what's the thing holding you back? Is it your finger strength? Are you not dynamic enough? Is your co-ordination missing? It shows that when you come across a problem, there is always a way. It's going to be hard, but you can get there.

You've spoken about where you want climbing to go as a sport – what about you individually? What are your goals?

I want to continue competing. I'd love to aim for British Champs and International Comps – it'd be great to be on the world stage. Getting outdoors a bit more, too.

And to finish up, I wanted to ask you a bit about journeys. Climbing is all about the journey to the top – what do you want your journey to look like?

Yes! I think a lot of people have different journeys to the top - I want mine to be enjoyable. I don't want to go through periods of climbing where I'm only doing it for the goal. Part of the goal is to enjoy the process.

-

And there's a poetry in that process. Dynamic and determined, skilful and starlit, there's an energy in Eugenie that mirrors the quiet hum of nature. Not all those who wander are lost – and Eugenie's direction for the future feels as if it's full of purpose, yet endlessly playful: wandering through and wondering at the world around her.

Photograpy - Dani K Monteiro


Creative Director - Mikey Krzyzanowski

Photography Assistant - Jack Cullis
Styling - Dolly Milkes
HMU Artist - Maya Man
Producer - Anna Carradice-French
Driver - Mac Christie

Writer - Maya Panasar